Join The Mighty Food Waste Mission
Wales has earned its place as the world's third top recycling nation, but we need to go further. Food waste recycling is where we can make the mightiest difference, whilst also helping to create renewable energy!
Wales Recycles is calling on children aged 8 to 11 this autumn to help create a more sustainable future where we waste less and recycle more.
Join the Mission and let your students uncover the fascinating process of food waste transforming into Welsh power, discovering fun facts like how many recycled banana skins it takes to power their devices.
Explore our Curriculum for Wales-aligned activities, which can also be used as part of your Eco-Schools evidence. Here's your Mission plan:
Step 1. Deliver the Mission Briefing presentation: Food waste is creating green energy – and we, as active citizens, can help! 
Step 2. Choose your Missions: Complete one, two or all three engaging classroom activities.
Step 3. Challenge your pupils with the homework competition: Design a food waste caddy sticker or poster and share them with us for a chance to win some brilliant prizes.
From kitchen caddy to renewable energy – Discover what happens to food waste in Wales.
The Mighty Food Waste Mission
First read the teacher guide to find out what it's all about, then register your details to download the classroom slides and homework challenge.
It's not only children that need to learn about recycling! We have provided a fun homework activity with a competition element, designed for pupils to complete with an adult at home. Pupils can win a day trip to one of Wales's top attractions for the family.
To enter the competition, we're asking pupils to design a sticker or poster for their food waste caddy or kitchen.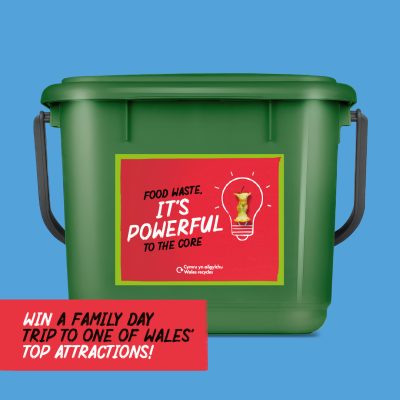 Thank you for joining the Mighty Food Waste Mission.
If you ordered free stickers, please allow up to five working days for them to arrive.

Use the classroom slides to deliver flexible curriculum-linked activities, then share the homework activity (and stickers!) so your pupils can take part in a fun competition.
To access these free resources,
please complete this simple form